eStore
Products & Services
Links
Contact Us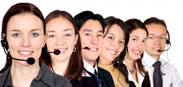 ARMVET Printing Company Inc.
4655 Arellano Ave., Palanan,
Makati City 1235 Philippines
Tel
:
+632 85518881 to 83
+632 85564533 to 35
+632 88040688
+632 85511803
Cell
:
+63920 9523648
Like Us on Facebook
Helpful Hints


Considerations in Proper File Preparation
A properly prepared file for print service providers will avoid unnecessary delays and additional costs to you. Here are some of the things you need to consider in creating your artwork.


Image resolutions

- Make sure that the images you use in your layout has a resolution of at least 300 dpi (dots per inch) with image size that is equivalent to the output size (or actual size of the image you need in your layout). Using the proper image resolution will give you a high quality image and will avoid rasterized edges.


Color Space

- If you intend to use offset printing production, make sure that you are working on CMYK color mode. Convert your RGB or Pantone colors to CMYK before submitting your artwork so you can preview how the colors will shift and make adjustments accordingly.
Bleed

- Always add 0.25" extension on all four sides of your artwork as bleed to ensure accurate trimming especially if your background has colors. Using bleed will avoid a white space on the edges of the printed products. But if your background is white, bleed is no longer recommended.


Safe Zone

- Ensure that all critical elements in the layout (such as text and images) are set at least 0.125" away from the cutting or crop marks. This is called the safe zone for your layout. For example, in a 5" x 7" postcard, place all elements with the exception of the background within 4.875" x 6.875" safe zone.
Fonts

-

It is important that you supply all fonts used in your layout to avoid text reflow. Select "Create Outlines" in Adobe Illustrator to save your fonts. Then, re-save your file.
File Formats

- We accept print-ready files in the following formats:

.eps

,

.jpg

,

.ps

,

.psd

and

.pdf

. We discouraged files created using MS Word, Excel, PowerPoint and Publisher since we cannot guarantee that they will print properly (with high quality text and images).
Hardcopy & Mock-up

-

Always provide a hardcopy (even if it is scaled down) of the submitted files so we can have a reference if there were missing elements. Submitting a mock-up will be very useful if there are special folding and/or die cut in your print jobs to minimize errors and delays.
Pure Black vs. Rich Black

-

Make sure your black text in the layout are

Pure Black

(or 100% Black) and not

Rich Black

(or CMYK Black). Doing so will avoid ghost effect if there is a slight movement in printing registration.


Common Terms Used in the Print Process
Accordion fold

: Bindery term, two or more parallel folds which open like an accordion.
Binding

: To fasten sheets with wire, thread, glue or by other means.
Bleed

: Printing that goes to the edge of the sheet after trimming.
Collating

: A finishing term for gathering paper in a precise order.
Color separations

: The process of preparing artwork, photographs, transparencies, or computer generated art for printing by separating into the four primary printing colors.
Crop marks

: Printed lines showing where to trim a printed sheet.
Die

: Metal rule or imaged block used to cut or place an image on paper in the finishing process.
Dummy

: A rough layout of a printed piece showing position and finished size.
Emboss

: Pressing an image into paper so that it will create a raised relief.
Four-color process

: The process of combining four basic colors to create a printed color picture or colors composed from the basic four colors.
Hard copy

: The output of a computer printer, or typed text sent for typesetting.
Magenta

: Process red, one of the basic colors in process color.
Matte finish

: Dull paper or ink finish.
Perfect bind

: A type of binding that 
glues the edge of sheets to a cover like a telephone book.
Process blue

: The blue or cyan color in process printing.
Process colors

:

Cyan (blue), magenta (process red), yellow (process yellow), black (process black).
Ream

: Five hundred sheets of paper.
Registration

:

To position print in the proper position in relation to the edge of the sheet and to other printing on the same sheet.
Register marks

: Cross-hair lines or marks on film, plates, and paper that guide strippers, platemakers, pressmen, and bindery personnel in processing a print order from start 
to finish.
Saddle stitch

: Binding a booklet or magazine with staples in the seam where it folds.
Scoring

: A crease put on paper to help it fold better.
Self-cover

: Using the same paper as the text for the cover.
Spot varnish

: Varnish used to highlight a specific part of the printed sheet.
Stock

: The material to be printed.
Trapping

: The ability to print one ink over the other.
Varnish

:
A clear liquid applied to printed surfaces for looks and protection.